This Sunday in Worship 
Sunday, October 24, 2021
on Zoom and In-Person
Adult Church School at 9:00am   |   Worship Service at 10:30am   |   Youth Sunday School at 11:35am
The 9:00am Adult Sunday School will resume hybrid style on Sunday, October 31.  This means you may attend online via zoom OR at church in the Parlor.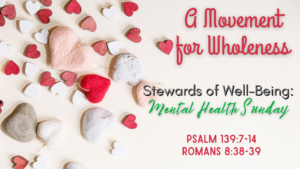 As part of our stewardship focus this month, we celebrate the ministry of First Christian Church, affirm our Disciples identity and mission, and lift up our connection to the Tucson community. Our stewardship team will invite us to continue supporting our call to Seek, Love, and Serve into the new year through our gifts and resources.
"We are the Christian Church (Disciples of Christ), a movement for Wholeness in a fragmented world."
Reminders About Zoom Worship:
Connect by 10:20am and make sure you are muted when the service begins. Having everyone connected early (even if you are not present on screen yet) helps us help you with any technical problems and begin our livestream and recording of the service without background noise.
Prayer Concerns: Email your prayer concerns to

Pastor Ailsa

 this week or type them in the Zoom chat when you log in.
Communion: Get your bread and cup ready for communion prior to service.
Hybrid worship is here!
You can choose: attend in person OR continue to attend online
To help us stay safe and comfortable, please follow the guidelines for in person worship.
Please, make your required reservation in advance.  EACH WEEK, contact the church office Monday-Wednesday the week prior to the service. Email: tucsonfcc@gmail.com OR Call: (520) 624-8695 to reserve your seats.  Due to physical distancing, we must plan the seating arrangement to help keep people safe. 
Please, wear an effective mask over the nose and mouth. If you do not have one, one will be provided.
Please, enter and exit at the red doors to the Sanctuary on Speedway.
Please, maintain physical distancing (6 feet minimum).
Please, check in at the Greeter's table upon entering. Your temperature will be checked there.
Please, use the individual communion packets provided.
Please, allow the ushers to guide and assist you before and during the service.
Please, allow the ushers to dismiss you following the service.
Please, give offerings as you exit.
Please, hum not sing during the music.
Please, socialize outside of the building.
Please, email, call in or text your prayer requests in advance to the minister OR bring the prayer request already written legibly to the worship service.
Thank you for supporting the safety and well-being of all as we expand our worship experience.
Thank you on behalf of the "Return" Team
Lori Gale, Lori Bryant, David Stadle, Violet Bierce, and Debbie Stadle
Supporting FCC
Thank you for continuing to give faithfully to First Christian Church! Your gifts enable us to keep following our call to Seek God, Love Like Jesus, and Serve the World. Because that call leads us to practice justice, our church board is committed to paying all our staff during this time. Mailing a check, setting up bill pay through your bank, or giving online are available options to continue your financial commitment.