This Week in Worship 
Sunday, March 7, 2021
Transformation. Change. The same, yet different. New.
Our Lenten series, Transforming, follows Jesus's journey to Jerusalem and the invitation it offers us. It is an invitation to take account of our lives, remember our dependence on God, and, this year more than any other, to seek the hope in God's presence. During the next six weeks in worship, we will use illustrations from the transformative nature of glass to mark our steps along the journey. From the way sand transforms to glass, fire makes glass malleable, shattered glass beautifully reflects light, or ocean waters create sea glass, we marvel at the beautiful and sometimes unexpected gifts transformation offers us.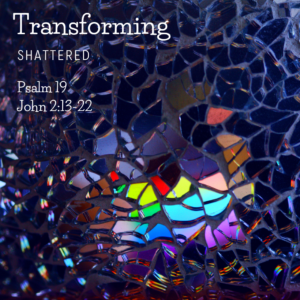 Adult Church School at 9:00am   |   Worship Service at 10:30am   |   Youth Sunday School at 11:35am
Reminders About Zoom Worship:
Connect 10 minutes early and make sure you are muted when the service begins. Having everyone connected early (even if you are not present on screen yet) helps us help you with any technical problems and begin our livestream and recording of the service without background noise.
Prayer Concerns: Email your prayer concerns to Pastor Ailsa this week or type them in the Zoom chat when you log in.
Communion: Get your bread and cup ready for communion prior to service.
Lenten Devotionals Available Online:
A number of free Lenten devotionals are available and accessible online this season. Click on the titles to go to the page.
Supporting FCC
Thank you for continuing to give faithfully to First Christian Church! Your gifts enable us to keep following our call to Seek God, Love Like Jesus, and Serve the World. Because that call leads us to practice justice, our church board is committed to paying all our staff during this time. Mailing a check, setting up bill pay through your bank, or giving online are available options to continue your financial commitment.