Weekly Events
All activities at FCC are currently held via Zoom.
Sundays at 9:00am: Adult Church School
Sundays at 10:30am: Worship
Sundays at 11:35 (following worship): Youth Church School
Mondays (1st 3rd & 5th) at 7:00pm  Mind Wholeness Ministry Spiritual Support Group
Wednesdays at 11:45am: Picnic Party
Thursdays at 6:00pm: Resiliency Thursdays
Fridays at 8am: Coffee Chat
This Sunday in Worship 
​
Sunday, August 1, 2021
Adult Church School at 9:00am   |   Worship Service at 10:30am   |   Youth Sunday School at 11:35am
We welcome Global Ministries Mission Co-Workers, Nishan & Maria Bakalian!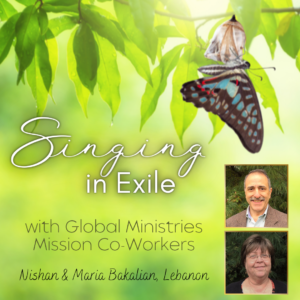 Nishan and his wife, Maria, are serving in Lebanon at the Union of the Armenian Evangelical Churches in the Near East (UAECNE). To read about more their work, 
click here
.
With Children: 
Hymns we're singing this week:
Reminders About Zoom Worship:
Connect by 10:20am and make sure you are muted when the service begins. Having everyone connected early (even if you are not present on screen yet) helps us help you with any technical problems and begin our livestream and recording of the service without background noise.
Prayer Concerns: Email your prayer concerns to Mary Alice Do this week or type them in the Zoom chat when you log in.
Communion: Get your bread and cup ready for communion prior to service.
* Returning to Worship in Our Building * 
Beginning on August 22 or 29 we will again be welcoming folks into our church building to worship. We will continue having an on-line opportunity to worship along with now meeting in person in the Sanctuary worship space in the building. This will be what is commonly called a "hybrid" worship experience.
There will be numbers of people who will continue to worship with us through ZOOM on the internet, and an opportunity for some people to worship in person in the church building.
While we are calling this a "return", there is a lot that is NOT a return about this experience.  It is not a return to the way things were before the pandemic.  It is not a return to a worship experience without a social/internet media component.  It is not a return to practices that disregard health and safety concerns.
There are still risks to gathering together.  We want to provide a worship experience that will help to reduce risks and fear for all of us in worship. In order to do this, we have developed a set of safe worship practices that will help to reduce risk and allow more comfortable participation by all.  Following are the practices to allow this to happen. 
We ask that all persons wanting to attend worship in person in the church building call (520-624-8695) or email (tucsonfcc@gmail.com) in advance to make a reservation.  Please call the church office by the Wednesday before the service to reserve your seats.  We have limited seating capacity due to social distancing and must plan for the seating arrangement to help keep people safe.
Please wear a mask.  If you do not have one, one will be provided.
Please use the individual communion packets provided.
Please enter at the red doors to the sanctuary on Speedway and follow all guidelines for entering and exiting.
Please check in at the greeter's table upon entering.
Please allow the ushers to escort you to your reserved seats, dismiss you after the service; raise your hand for assistance when needing to leave the service.
Please join in with the music by humming, if you want, and refrain from singing out loud during musical presentations.
Please socialize outside of the building in the parking lot or on the sidewalk. 
Thank you for supporting the safety and well-being of all as we navigate our way into expanding our worship experience.
Thank you on behalf of the "Return" Team
(Lori Gale, Lori Bryant, David Stadle, Violet Bierce, and Debbie Stadle)
Our Congregational Quilt!
How are your quilt squares coming along? We hope that you are taking some time to create some images or words or pictures that capture your journey through this summer sabbatical.  The Ministry Team would like to use some of your images as part of our worship in August, as an inspiration and reflection as we prepare to assemble our quilt!  We will be requesting those soon. 
All it takes is an 8 x 10 piece of paper with your expression in art, pictures, images, collage, words, photos, whatever your spirit leads you to do!  You can choose to do one or several for each month or for the whole summer. Enjoy this creative way to explore your own resiliency and how it is growing.
When Pastor Ailsa returns, we will gather all of our quilt squares together, put them on display on a chosen location, and present her and all of us with our story-telling paper quilt as a celebration of our sabbatical journey.
Building Our Spiritual Resiliency:
Exploring Healing – Resource Guide Part 5
​

For additional resources or to print out Resource Guide, 
click here.
Mind Wholeness Ministry Spiritual Support Group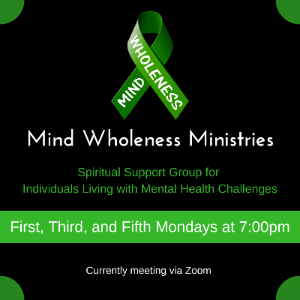 Mind Wholeness Ministry of First Christian Church offers a spiritual support group for people facing mental health challenges. Anyone desiring spiritual and/or emotional support is invited to this group. The Rev. Mary Alice Do facilitates the groups. The group meets on the 1st, 3rd, and 5th Monday of each month at 7:00pm.
Resiliency Thursdays: 
Thursdays at 6 pm
This summer, we have the opportunity to get together each Thursday evening to explore who we are and how we communally build our spiritual resiliency. In July, we will creatively explore Healing on 7/1, 7/15, and 7/29; alternating weekly with a more focused study on the meaning of living in covenantal relationships within the church and with each other as the Christian Church (Disciples of Christ).
1st & 3rd Thursdays (8/5)
Exploring Healing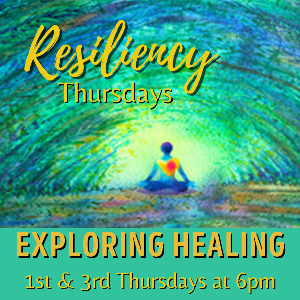 Come and join us for a creative exploration of "Healing."  We will read scripture, sing, and/or hear thoughts on healing, with time for prayer and sharing.  We will also incorporate practices to assist us with building our resiliency as we heal from our individual and collective traumas and grief.
Come and join in community as we build our resilience together!
2nd & 4th Thursdays (7/22 & 8/5)
Covenant Conversations
A journey through interactive conversation towards faithfully living into covenant as the Christian Church (Disciples of Christ). Guided sessions will take participants into a deeper reflection of what it truly means to live in covenantal relationship with each other, with each other, with the church, and with God.
Each session starts out with a short video, followed by questions for consideration and conversation.  Grab your bible and join us!
Broadening our understanding for anti-racist work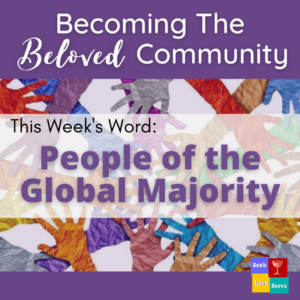 People of the Global Majority:
Global majority is a collective term that encourages those of African, Asian, Latin American, and Arab descent to recognize that together they comprise the vast majority (around 80 per cent) of people in the world. Understanding the truth that whiteness is not the global norm has the power to disrupt and reframe our conversations on race.
Digging Deeper: (click the links to learn more)
Disciples Women's Fall Retreat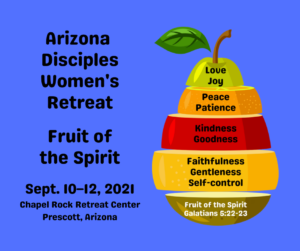 September 10–12
Attend in-person at Chapel Rock Retreat Center in Prescott OR online!
Keynote speaker: Rev. Ailsa Guardiola González
Peanut Butter Drive: Wow! First Christian Church is truly amazing! 
52 Ways to care for Creation
Each week we share a new way to care for creation.
Week 30 – Read  book Concerning Creation Care
We recommend titles by members of the Creation Justice community, including:
50 Ways to Help Save the Earth: How You and Your Congregation Can Make a Difference by Rev. Rebecca Barnes of Presbyterian Church (USA), who is also our board president.
Creation as Sacrament: Reflections on Ecology and Spirituality by Fr. John Chryssavgis of the Greek Orthodox Archdiocese of America
Rooted and Rising: Voices of Courage in a Time of Climate Crisis by Rev. Dr. Margaret Bullitt-Jonas of the Episcopal Church and Rev. Dr. Leah Schade of the Evangelical Lutheran Church in America
Climate Church, Climate World: How People of Faith Must Work for Change by Rev. Jim Antal of the United Church of Christ
Updates From the Inn
Please register as a volunteer at  The Inn Participation Form – Desert Southwest Conference (dscumc.org). If you registered and still haven't received the signup genius, text Gretchen at 520-330-8146 and leave her your name, phone or email and a short message.
Needs include:
·   Volunteers who can help with the 8-1pm, 1-5 pm or 5-9pm shifts daily, including weekends.
·   Driving guests from Casa Alitas Welcome Center, after being Covid tested, to the hotel.
·   Driving guests to the airport or bus station.
If you are new to the Inn and are interested in volunteering for shifts or driving, please call or text Gretchen at 520-330-8146 and leave a message with your name and phone number. The good news is that the Inn is now hosting larger groups of families that are traveling on to their sponsors as the next step in the asylum process. 
For donations, please call Diane at 520-272-4341 to schedule a time and location to drop off materials. Please note that, at this time, we are only accepting NEW clothing, which we need and will gladly accept. Donations may also be sent through our amazon wish list here you will find needed items that you purchase and will be delivered to us. You can also share this link with friends, family & even on your social media to help spread the word. More information is available at: www.theinnofsa.org
Events and Resources
Wednesdays at 9:00am
Join in prayer with Disciples from across the US and Canada each Wednesday at 9:00am.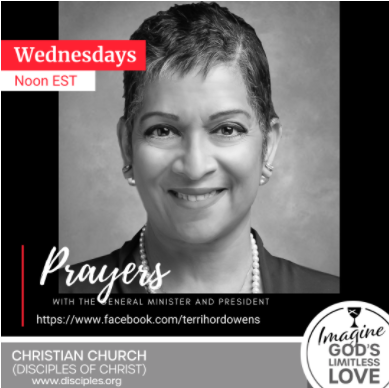 Disciples Virtual Gathering
SAVE THE DATE! August 7, 2021


Nothing can separate us from the love of God!
#DisciplesConnect2021 – Sign up to receive email updates here.
Picnic Party Every Wednesday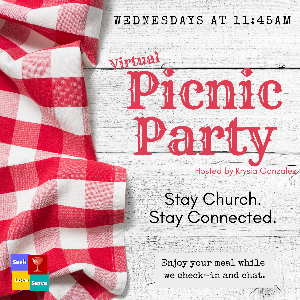 Wednesdays at 11:45 am
The picnic party offers a midweek refresher with both lively conversation and compassionate care as we continue living in this unprecedented time. Everyone is welcome! 
Get the Zoom link from the most recent newsletter or contact the church office.
Friday Coffee Chat 
Fridays at 

8:00

am 
End the week with great company! Brew your favorite coffee (or tea), grab a bit of breakfast, and enjoy a time to connect with others. Coffee chat meets every Friday at 8am.
Get the Zoom link from the most recent newsletter or contact the church office.
Supporting FCC
Thank you for continuing to give faithfully to First Christian Church! Your gifts enable us to keep following our call to Seek God, Love Like Jesus, and Serve the World. Because that call leads us to practice justice, our church board is committed to paying all our staff during this time. Mailing a check, setting up bill pay through your bank, or giving online are available options to continue your financial commitment.