Weekly Events
All activities at FCC are currently held via Zoom.
Sundays at 9:00am: Adult Church School
Sundays at 10:30am: Worship
Sundays at 11:35 (following worship): Youth Church School
Mondays (1st 3rd & 5th) at 7:00pm  Mind Wholeness Ministry Spiritual Support Group
Wednesdays at 11:45am: Picnic party
Thursdays at 6:00pm:  Prayer Vigil
Thursdays at 7:15pm: Zoom Choir
Fridays at 8am: Coffee Chat
This Week in Worship 

​Sunday, January 24, 2021
Reminders About Zoom Worship:
Connect by 10:20am and make sure you are muted when the service begins. Having everyone connected early (even if you are not present on screen yet) helps us help you with any technical problems and begin our livestream and recording of the service without background noise.
Prayer Concerns: Email your prayer concerns to Pastor Ailsa this week or type them in the Zoom chat when you log in.
Communion: Get your bread and cup ready for communion prior to service.
Becoming the Beloved Community
"The racial justice reckoning happening across the United States gives us an opportunity to revisit our commitment to be a pro-reconciling/anti-racist church; that is, to be the church we say we are."  —Reverend Terri Hord Owens, General Minister and President of the Christian Church (Disciples of Christ – letter to the church Jan 2021
Our FCC church leaders are committed to making this a reality. In order to be a pro-reconciling / anti-racist church, we must start with having an honest conversation. To listen, learn and speak the language of reconciliation, we must broaden our vocabulary and understanding. In this space each week, you will find a word from a glossary of common terms in anti-racism work. Along with the definition, an example and opportunities to "dig deeper" in understanding are provided. You are encouraged to learn and incorporate the language of anti-racism as we do the work together in love to become the beloved community.
Common Term in Anti-Racism Work:
Ally: Someone who makes the commitment and effort to recognize their privilege (based on gender, class, race, sexual identity, etc.) and work in solidarity with oppressed groups in the struggle for justice. Allies understand that it is in their own interest to end all forms of oppression, even those from which they may benefit in concrete ways.(OpenSource Leadership Strategies, "The Dynamic System of Power, Privilege and Oppressions.").
Digging Deeper:
Short 4 min video: How to Be a Good Ally: 
https://www.youtube.com/watch?v=_dg86g-QlM0&t=116s 
2 1 hour web seminars: How To Be a Co-Conspirator Parts 1 and 2:
https://www.facebook.com/39998116217/videos/283551939426965 
https://www.facebook.com/39998116217/videos/745616532874674
Six Weeks to Health Resiliency

Thursdays at Noon (Jan 14 – Feb 18)
There are simple things we can do to support our bodies. The trick is doing these things so often they become a habit and we no longer need to think about them. Rosemary Bolza will lead a group to engage in different health practices. It will meet by zoom for one hour each week for six weeks.
Each hour will include an explanation and demonstration of a health practice followed by the group's engaging in it.  We will conclude with discussion on how we can include the practice in our own lives.
– 1/28 Week three: posture
– 2/4 Week four: hydration
– 2/11 Week five: eating more vegetables
– 2/18 Week six: moving more
UPDATE: Casa Alitas – Your Help Needed
Casa Alitas continues to offer hospitality to families seeking asylum even as current policies have reduced the number of guests. They continue to need:
Food preparers: cook a one dish meal for about 10 people and deliver to Casa Alitas. (Staff and volunteers will reheat to serve guests.)
Clothing items: men's shoes sizes 7-8, women's shoe sizes 5-6. Sneakers preferred. New or used in good condition. Items can be purchased from the Casa Alitas Amazon wish list. Used items can be dropped off at the box at the breezeway entrance at the church.
You can also volunteer in other ways. A volunteer training will take place on Friday, January 29th from 9-11am via zoom. The orientation covers background on Alitas, safety information, covid guidelines, and volunteer opportunities, and is required for volunteering. Anyone interested in attending should contact Sarah Reed at alitasvolunteers@gmail.com.
Reconciliation Ministry Honors the legacy of Dr. Martin Luther King, Jr. with a call to 21 days of prayer
"We realize that we stand surrounded with the mountains of love and we deliberately dwell in the valley of hate. We stand amid the forces of truth and deliberately lie; We are forever offered the high road and yet we choose to travel the low road. For these sins, O God, forgive. Break the spell of that which blinds our minds. Purify our hearts that we may see thee."  —Rev. Dr. Martin Luther King, Jr. September 6, 1953
Reconciliation Ministry, in partnership with Disciples Justice Ministries, invites Disciples to join in 21-days of prayer beginning Sunday, Jan. 17 continuing through Feb. 6.  This season of prayer is intended to honor our faithful witness and our spiritual conviction to "love one another" as Christ has loved us.  As we commemorate the life and legacy of the Rev. Dr. Martin Luther King, Jr. on Monday, Jan. 18, we resonate with the vast repertoire of action and advocacy for racial and social justice that continues to inform our ministries of justice and racial reconciliation today.  To launch this season of prayer, we will post written and video prayers daily on the social media outlets of Reconciliation Ministry and Disciples Justice Ministries.
Events and Resources
FREE Covid Testing – Saturday, January 23

Lift Every Voice and Sing! Deadline: January 27
Join the Disciples Virtual Choir
The National Convocation of the Christian Church (Disciples of Christ) invites you to join the Disciples Virtual Choir as we present the anthem, "Lift Every Voice and Sing," in February. A poem written by James Weldon Johnson, it was first recited in 1900 by a group of 500 children. The poem was set to music by Johnson's brother, John Rosamond Johnson, in 1905. Since then, the enduring anthem has been sung all over the world. It is included in almost 30 hymnals, including the African American Heritage Hymnal. It is often referred to as the "Black National Anthem."​
Let's join our voices in singing a song of faith, courage, and hope to encourage each other during this time of isolation. Singers and musicians of all ages are invited to sing or play along with their musical instrument. We hope to see all of the faces of Jesus in the choir, and that our siblings from every expression of the church will join in singing "Lift Every Voice and Sing." Please submit your video by January 27, 2021. See instructions at this link. 
Phillips Theological Seminary Presents Remind & Renew 2021
Remind & Renew 2021 will focus on the violence and trauma perpetrated against African Americans and Native Americans/Indigenous/Indians in the region of Oklahoma and Kansas. Because of the global pandemic, Remind & Renew will be online. You can register here. The conference fee is $35. It will use both recorded and live presentations using an online conference platform called Whova. This service also allows R&R attendees to meet in their own live small groups. While it's not the same as getting together with friends and colleagues over lunch or dinner, the hope is gatherings can happen remotely. When you register for Remind & Renew, you'll get more information on how to use Whova, including its smartphone app.
Mind Wholeness Ministry Spiritual Support Group
Monday, January 18 at 7:00pm
Mind Wholeness Ministry of First Christian Church offers a spiritual support group for people facing mental health challenges. Anyone desiring spiritual and/or emotional support is invited to this group. The Rev. Mary Alice Do facilitates the groups. The group meets on the 1st, 3rd, and 5th Monday of each month at 7:00pm.
Picnic Party Every Wednesday
Wednesdays at 11:45 am
The picnic party offers a midweek refresher with both lively conversation and compassionate care as we continue living in this unprecedented time. Everyone is welcome! The picnic party is hosted by Krysia González.
Get the Zoom link from the most recent newsletter or contact the church office.
Thursday Faith Conversations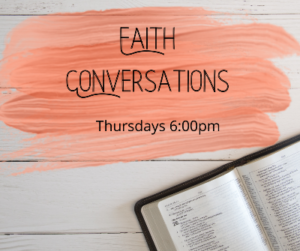 How do the scriptures relate to our experiences and events in the world today? This is the focus of the Thursday gathering for prayer and faith conversations. Each week a facilitator creatively leads us in reflective conversation based on a scripture passage,  prayer, and worship through music. Everyone is welcome.
Every Thursday at 6:00 pm.
Contact the church office for the Zoom link.
Zoom Choir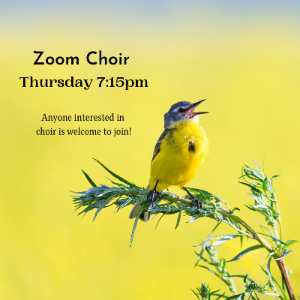 Love to sing? Interested in choir?
The FCC Choir has begun meeting via Zoom on Thursday evenings at 7:15pm.
Contact the church office if you need the Zoom link (you can find it in the newsletter).
Friday Coffee Chat
End the week with great company! Brew your favorite coffee (or tea), grab a bit of breakfast, and enjoy a time to connect with others.
Every Friday at 8:00am.
Get the Zoom link from the most recent newsletter or contact the church office.
Supporting FCC
Supporting FCC
Thank you for continuing to give faithfully to First Christian Church! Your gifts enable us to keep following our call to Seek God, Love Like Jesus, and Serve the World. Because that call leads us to practice justice, our church board is committed to paying all our staff during this time. Mailing a check, setting up bill pay through your bank, or giving online are available options to continue your financial commitment.