Weekly Events
All activities at FCC are currently held via Zoom.
Sundays at 9:00am: Christian Education Class for all ages
Sundays at 10:30am: Worship
Mondays at 6:00pm (1st & 3rd): Mind Wholeness Ministry Spiritual Support Group
Wednesdays at noon: Picnic party
Thursdays at 6:00pm: Bilingual Prayer Vigil (suspended until further notice)
Fridays at 8am: Coffee Chat
This week in worship
Sunday, July 12, 2020
Church School at 9:00 am  /   Worship Service at 10:30 am
Please connect by 10:20am and make sure you are muted when the service begins.
Having everyone connected early (even if you are not present on screen yet) helps us help you with any technical problems and begin our livestream and recording of the service without background noise.
(if you need the Zoom link and password, please email the church office)
Reminders About Zoom Worship:
Prayer Concerns: Email your prayer concerns to Pastor Ailsa this week or type them in the Zoom chat when you login.
Communion: Get your bread and cup ready for communion prior to service.
Practice Zoom: Connect as early as 10am to address any technical issues.
Mute: please keep you microphone or phone muted when you are not speaking. Otherwise too much background noise makes it difficult to hear the speaker.
New: Friday Coffee Chat
End the week with great company! Brew your favorite coffee (or tea), grab a bit of breakfast, and enjoy a time to connect with others.
Every Friday at 8:00am.
Get the Zoom link from the most recent newsletter or contact the church office.
Disciples Women's Ministry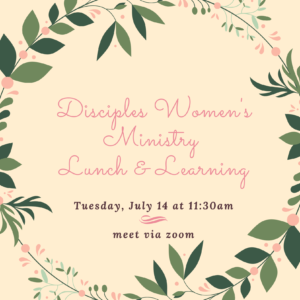 Disciples Women's Ministry invites everyone (women, men, and young) to meet via Zoom on Tuesday, July 14 at 11:30am.  You may connect by using a computer, smart phone, tablet, or telephone. Contact Ann Nichols or Lori Bryant if you need help with how to connect.
From 11:30am – 12:00pm we will visit and share our joys and concerns. At 12:00pm, Rosemary Bolza will lead us in our program adapted from the Futures without Violence's Call for Courage – A Night to Remember event. The Futures without Violence organization started as a response to domestic violence and their expertise is violence against women but the violence of racism, gender and violence towards the earth are all related.
Get the Zoom link from the most recent newsletter or contact the church office.
Picnic Party Every Wednesday
Enjoy meaningful and fun conversations over lunch at the weekly picnic party each Wednesday at noon. Everyone is welcome! Get the Zoom link from the most recent newsletter or contact the church office.
Thursday Evening Prayer Continues Virtually
Connect for a time of song, scripture conversations, and prayers as we continue praying for hospitality guests and the world.
Every Thursday at 6:00 pm.
Contact the church office for the Zoom link.
Claudia Ellquist's Book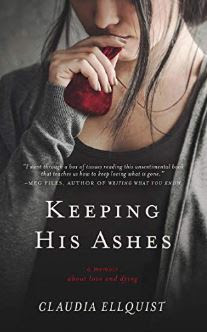 Claudia's book, Keeping His Ashes, is finally being published.
Now available on Amazon Kindle – hard copy available soon.
Signs of Hope & Justice
Fill FCC's corner at Speedway & Euclid with messages of love, hope, and justice. This is not the time for silence. Make a poster or sign to put on our property, either handmade or printed, with a message (samples here) or the names of Black siblings who have lost their lives unjustly. H-stakes are available for you to attach your sign and put it in the ground. They are located near the breezeway entrance. 
Campus Pantry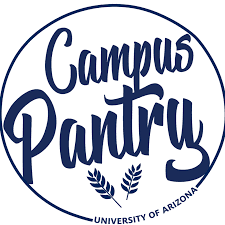 Campus Pantry!
The Campus Pantry continues to offer food to students and staff in need and welcomes your donations. Monetary donations are greatly appreciated at this time. Donate here. Be sure that "Campus Pantry" is the designated fund.
Food donations are also being received in the Sonora Room in the Student Union on Tuesdays 2-4pm and Wednesdays and Fridays 11am-1pm. Donations can also be taken to the ASUA office on the 3rd floor any day from 10am-2pm. We are currently not receiving donations at First Christian. Click here to view the acceptable items!
Events & Resources
Food Distribution
Saturday, July 11, 7:00am – 9:00am
Faith Tabernacle parking lot – 5011 E. Ft. Lowell Rd.
Bring a photo ID and, if you are enrolled for the senior food box, bring your yellow card.
UNDETERRED
Virtual Film Screening and Panel Discussion
Monday, July 13th at 4 PM  
The screening will be a fundraiser for the No More Deaths/ No Más Muertes COVID-19 Emergency Bond Fund, which works to bond immigrants out of ICE detention centers during this extra dangerous time due to COVID-19, and Trans Queer Pueblo, a migrant and LGBT+ community dedicated to building leadership and organizing to solve basic needs. Reserve your free tickets today here. (Recommended donation is $5 or more.) Go here to participate with us on Monday: https://gathr.us/screening/31612.  You can purchase your own copy of UNDETERRED here or find additional resources like the UNDETERRED Teaching Tool Kit and the Border Militarization FAQ here and here. The panel discussion about the current state of border community organizing and the crisis of wall construction will be moderated by border community organizer and UNDETERRED filmmaker, Eva Lewis.
What Does "Defund the Police" Mean?
Tuesday, July 14, 9am-11am
Faith in Public Life presents "Defunding the Police 101" web-based training for people of faith on Tuesday, July 14, from 12-2 p.m. ET. This interactive training in partnership with the Working Families Party will explore the history of policing in our nation, its effect on Black communities,  what "defunding the police" means, and ways for faith communities to work together in the movement for justice.
This is a unique opportunity for faith leaders, organizers, and allies of the movement to learn how to dismantle racist institutions and make our communities safer for all — especially Black, Brown and Native people who are brutalized by police.
6 Action-hacks to Attack Racisim
Wednesday, July 15 at Noon
Terrell McTyer (Disciples Minister of New Church Strategies) hosts April Johnson (Minister of Reconciliation for the Christian Church (Disciples of Christ) and  Mark Anderson (President and CEO of the National Benevolent Association) for the latest episode of New Church Hacks: "16 Action-Hacks to Attack Racism."
Registrants will receive a recording of the webinar after it airs, so be sure to register!
Chalice Press:
Books to Read If You Want to be an Anti-Racist 
Chalice Press, the leading publisher of award-winning progressive Christian and social justice titles, offers resources for your anti-racism/pro-reconciliation work. These books can help inform and guide conversations around racism, race relations, discrimination and racial justice, whiteness, and white fragility. Most of the books include discussion questions at the end of each chapter or free downloadable study guides to use in small groups, book clubs, or for your own deeper personal reflection. Join us in this urgent social justice work to help heal and change the world for the better.
See the books at this link.
Crisis Counseling: CALL 2-1-1
(Launching July 22)
Food for Kids: Books and More at Pima County Libraries
Children and their families can pick up snacks and fresh produce at Pima County Public Libraries this summer. The program looks a little different than previous years, but adaptations are being made to keep everyone safe, healthy and nourished. Libraries are hosting this opportunity Monday-Friday mornings through August 5th.
Supporting FCC
Supporting FCC
Thank you for continuing to give faithfully to First Christian Church! Your gifts enable us to keep following our call to Seek God, Love Like Jesus, and Serve the World. Because that call leads us to practice justice, our church board is committed to paying all our staff during this time. Mailing a check, setting up bill pay through your bank, or giving online are available options to continue your financial commitment.