Weekly Events
Most activities at FCC are currently held via Zoom.
Sundays at 9:00am: Adult Church School (in-person and on Zoom)
Sundays at 10:30am: Worship (in-person and on Zoom)
Sundays at 11:35 (following worship): Youth Church School
Mondays (1st 3rd & 5th) at 7:00pm  Mind Wholeness Ministry Spiritual Support Group
Wednesdays at 11:45am: Picnic Party
Thursdays at 6:00pm: Thursday Conversation: Imagine
Fridays at 9am: Coffee Chat
This Sunday in Worship 
​
Sunday, October 24, 2021
On Zoom and In-Person!
Adult Church School at 9:00am   |   Worship Service at 10:30am   |   Youth Sunday School at 11:35am
The 9:00am Adult Sunday School will resume hybrid style on Sunday, October 31.  This means you may attend online via zoom OR at church in the Parlor.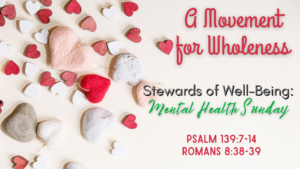 As part of our stewardship focus this month, we celebrate the ministry of First Christian Church, affirm our Disciples identity and mission, and lift up our connection to the Tucson community. Our stewardship team will invite us to continue supporting our call to Seek, Love, and Serve into the new year through our gifts and resources.
"We are the Christian Church (Disciples of Christ), a movement for Wholeness in a fragmented world."
Reminders About Zoom Worship:
Connect by 10:20am and make sure you are muted when the service begins. Having everyone connected early (even if you are not present on screen yet) helps us help you with any technical problems and begin our livestream and recording of the service without background noise.
Prayer Concerns: Email your prayer concerns to Pastor Ailsa this week or type them in the Zoom chat when you log in.
Communion: Get your bread and cup ready for communion prior to service.
Hybrid worship is here!
You can choose: attend in person OR continue to attend online
To help us stay safe and comfortable, please follow the guidelines for in person worship.
Please, make your required reservation in advance.  EACH WEEK, contact the church office Monday-Wednesday the week prior to the service. Email: tucsonfcc@gmail.com OR Call: (520) 624-8695 to reserve your seats.  Due to physical distancing, we must plan the seating arrangement to help keep people safe. 
Please, wear an effective mask over the nose and mouth. If you do not have one, one will be provided.
Please, enter and exit at the red doors to the Sanctuary on Speedway.
Please, maintain physical distancing (6 feet minimum).
Please, check in at the Greeter's table upon entering. Your temperature will be checked there.
Please, use the individual communion packets provided.
Please, allow the ushers to guide and assist you before and during the service.
Please, allow the ushers to dismiss you following the service.
Please, give offerings as you exit.
Please, hum not sing during the music.
Please, socialize outside of the building.
Please, email, call in or text your prayer requests in advance to the minister OR bring the prayer request already written legibly to the worship service.
Thank you for supporting the safety and well-being of all as we expand our worship experience.
Thank you on behalf of the "Return" Team
Lori Gale, Lori Bryant, David Stadle, Violet Bierce, and Debbie Stadle
A Thursday Conversation
Thursdays at 6 pm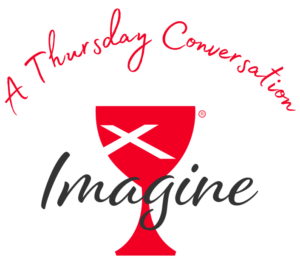 This week, we will be looking at this stanza of the Preamble:
 In the bonds of Christian faith
   we yield ourselves to God
   that we may serve the One
   whose kingdom has no end.
Bring your thoughts and reactions to our meeting this Thursday night as we explore together what these words mean to us, along with a time of song and prayer.
Let us IMAGINE together what possibilities God has in store for us as we renew our covenant to God and to one another in creating and sustaining the Beloved Community.
Contact the church office if you need the Zoom link, or locate it in the church newsletter.
All Saints Day: Sunday, November 7
We are the legacy of those who have gone before us. On All Saints Sunday, we give thanks to God for loved ones who have impacted our lives, church, and community. If you would like your loved one represented on the altar we will have in worship that day, please email their picture to Pastor Ailsa, fccailsa@gmail.com. We will also have a special moment of thanksgiving and memoriam for those in our faith community who have died since our last All Saints celebration.

Broadening our understanding for anti-racist work
CROP Hunger Walk
We're participating in the 2021 CROP Hunger Walk to support CWS and help families who are struggling with hunger. We're asking you to join us – with your steps and your donations – to provide more meals for the growing number of people in our community who need them, and greater food security in communities around the world.
Team FCC Tucson
WALK:
Sunday, November 7 at 2:00pm
Trinity Presbyterian Church
400 E University Blvd
More Info About the WALK Here.
DONATE:Anytime, using this link:
https://events.crophungerwalk.org/2021/team/fcc-tucson
#SaveAsylum Vigil Invitation
As migrants continue to hold daily vigils in Nogales, Sonora we plan to meet in Tucson, AZ every Friday afternoon for the month of October to stand in solidarity and continue our call to restore access to asylum. The hope is that these public witnesses will be:
Prayerful in tone
Share the stories of asylum seekers
Attract local media attention
Where:  First Christian Church (On the southwest corner or Speedway and Euclid) 740 E Speedway Blvd, Tucson, AZ 85719
Bring your mask, some water and a hat! If you would like to make a signor banner in support of restoring asylum, that would be great. We will also have some for you to use. We will say prayers, lift up the stories of those who have been waiting, chant and sing peacefully. You may like to also bring something to represent these families which include many children (a candle, a child's toy etc.) Our theme will be "Restore Protection for Holy Families."
Time:  3:30pm-5:00pm
Dates:  October 1, 8, 15, 22, 29
Call Janis Sherick, 520-501-9343 if you have questions, or to let us know that you will be there.
ICS Bag-a-thon
Be a part of the biggest food drive of the year for the Interfaith Community Services Food Banks!  Throughout the month of October, ICS is collecting bags of food. As partners of faith with ICS, First Christian Church is joining the fun to make a difference in our community!
How you can help:
Fill a bag with:

Peanut butter (16 oz. jar)
Spaghetti sauce (24 oz. jar)
Meals in a can: chili, ravioli, etc.
Canned meats: tuna, chicken, spam
Mac 'n' Cheese
Stuffing mix
Instant potatoes

DELIVER BAG TO: ICS Northwest Food Bank located at 2820 W. Ina Rd. M-F from 11am-4pm throughout the month of October.
Casa Alitas Urgent Needs
Casa Alitas is receiving up to 200 guests per day.  They are in urgent need of supplies.  Here is a fun way to help out and know that you are bringing joy to the children.
Purchase crayons, journals and small toys for ages 5-11.
If you are able to help with any of these items, bring them to the church and we will get them to Casa Alitas. 
Events and Resources
Wednesdays at 9:00am
Join in prayer with Disciples from across the US and Canada each Wednesday at 9:00am.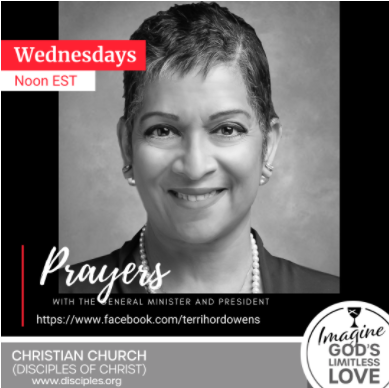 Mind Wholeness Ministry Spiritual Support Group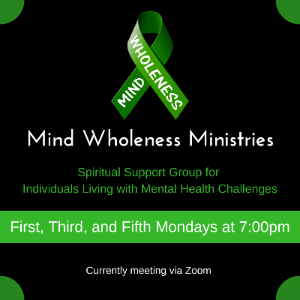 Mind Wholeness Ministry of First Christian Church offers a spiritual support group for people facing mental health challenges. Anyone desiring spiritual and/or emotional support is invited to this group. The Rev. Mary Alice Do facilitates the groups. The group meets on the 1st, 3rd, and 5th Monday of each month at 7:00pm.
Picnic Party Every Wednesday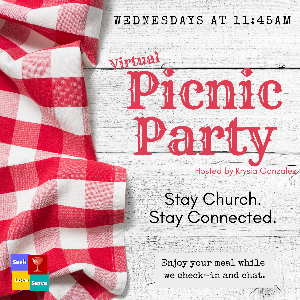 Wednesdays at 11:45 am
The picnic party offers a midweek refresher with both lively conversation and compassionate care as we continue living in this unprecedented time. Everyone is welcome! 
Get the Zoom link from the most recent newsletter or contact the church office.
Friday Coffee Chat 
Fridays at 

8:00

am 
End the week with great company! Brew your favorite coffee (or tea), grab a bit of breakfast, and enjoy a time to connect with others. Coffee chat meets every Friday at 8am.
Get the Zoom link from the most recent newsletter or contact the church office.
Supporting FCC
Thank you for continuing to give faithfully to First Christian Church! Your gifts enable us to keep following our call to Seek God, Love Like Jesus, and Serve the World. Because that call leads us to practice justice, our church board is committed to paying all our staff during this time. Mailing a check, setting up bill pay through your bank, or giving online are available options to continue your financial commitment.