Weekly Events
All activities at FCC are currently held via Zoom.
Sundays at 9:00am: Adult Church School
Sundays at 10:30am: Worship
Sundays at 11:35 (following worship): Youth Church School
Mondays (1st 3rd & 5th) at 6:00pm  Mind Wholeness Ministry Spiritual Support Group
Wednesdays at noon: Picnic party
Thursdays at 6:00pm:  Prayer Vigil
Fridays at 8am: Coffee Chat
This Week in Worship 

​10:30 am Sunday, September 27, 2020
"Jubilee for the Earth" invites us to imagine with God a new way of living with the earth and one another. A way that brings rest, restoration, and hope.
Adult Church School at 9:00 am
Youth Church School following Worship
Activities & wondering questions can be found here.
Hymns we're singing this week:
Chalice Praise #6, Hymnal #58, and "Many and Great, O God"
Ways to Care for Creation
Week of September 27:
This week, track your use of paper and disposable products. This week, watch how much you use paper plates, disposable utensils and straws. See what of those items you can replace with reusable Tupperware and flatware that you can take with you. Get yourself a set of reusable tupperware, cutlery, and a straw. You can keep this in your car, purse, or backpack to use at a moment' s notice
Week of September 20:
Pick one night to go meatless and try this each week. Cutting down on our meat consumption can help the health of the earth. Raising animals for food generates more greenhouse gasses than the use of cars and trucks. Then, join us for our Mmm: Meatless Monday Meetup on Monday, September 28 at 5:30pm. This Video helps explain. 
(From "52 Ways to Care for Creation," a resource of Creation Justice Ministries) 
(if you need the Zoom link and password, please email the church office)
Reminders About Zoom Worship:
Connect by 10:20am and make sure you are muted when the service begins. Having everyone connected early (even if you are not present on screen yet) helps us help you with any technical problems and begin our livestream and recording of the service without background noise.
Prayer Concerns: Email your prayer concerns to Pastor Ailsa this week or type them in the Zoom chat when you log in.
Communion: Get your bread and cup ready for communion prior to service.
Special Offering: Reconciliation
(To give to the special offering, mail a check with "reconciliation" in the memo line or give through Tithe.ly online or via the app. Be sure to select "reconciliation special offering" from the drop down menu.)
The Rocks Are Crying Out: Show Up, Speak Up, Stand Up.
2020 Reconciliation Ministry Offering
Some Pharisees from the crowd told him, "Teacher, get your disciples under control!"  But he said, "If they kept quiet, the stones would do it for them, shouting praise."  Luke 19:39-40 MSG version 
It has been twenty years since we proclaimed our anti-racist and pro-reconciliation identity. 
On September 27th and October 4th, we will receive the Special Offering for Reconciliation Ministry in congregations.
 This year's theme is fitting for our response to the sustained unrest that has propelled many to engage in social activism in small towns and major cities. 
The Rocks Are Crying Out: Show Up, Speak Up, Stand Up
 based in Luke 19:36 -40, reminds us, that like those first-century disciples following Jesus into Jerusalem, that we must lift our voices to acknowledge the divine message and the divine messenger that is Christ with us…. 
CLICK HERE TO CONTINUE READING.
Congregational Meeting – September 27
SAVE THE DATE!  We will hold our September congregational meeting on Sunday, September 27 following the worship service.
Underwear & Shoe Donations Needed
Monday, September 28
Small sizes of women's underwear
Small sizes of men's underwear
Small sizes of men's shoes
All donations must be new
Kino Border Initiative (KBI) continues to work with migrants in Nogales, Sonora. The migrants consist of individuals and families who came to the border seeking asylum and are victims of the "Migrant Protection Protocols" or have been deported. They find themselves in need of shelter, food, and other support. You may place donations by the breezeway entrance at First Christian by Monday, September 28. Your gifts are greatly appreciated. 
September is Suicide Prevention Month
Myths about suicidal thoughts and actions:
1. Asking someone, especially children or teens, about suicide will put ideas in their head. 
    Fact: When someone is having suicidal thoughts, being asked about it is often a relief to them.
2. People who talk about suicide won't really do it. They just want attention. 
    Fact: Talking about death or suicide is a warning sign and needs to be taken seriously.
3. If someone wants to kill him/herself, nothing can be done. 
    Fact: Most people who attempt suicide do not want to die, they just want the pain to stop.
4. All teens who die by suicide spend a lot of time planning their attempt. 
    Fact: Suicide can be an impulsive act, particularly among young people.
Love is an Action Word
Mark your calendar for upcoming events in the series:
The Love is an Action Word series is continuing every two weeks from now until November. Episodes will take place on Thursdays at 7 pm ET/6 pm CT and 4 pm PT (schedule subject to change). Past webinars are archived on the Disciples YouTube channel.
Oct. 8 – Love is an Action Word: Race, Gender, and Sexual Identity – Disciples reflect on the policies, practices, and theology that shape our relationships with our lesbian, gay, bisexual, transgender and gender diverse (LGBTQ+) siblings and encourage more inclusive, affirming faith communities with a call to action.
Oct. 22 – Love is an Action Word: Puerto Rico, Imperialist ideology, and mission – Disciples reflect on the policies, practices, and theology that shape our relations with Puerto Rico, and their call to action.
Nov. 5 – Love is an Action Word: Identity, Theology, and Faithful care for the community – A multi-racial, multi-cultural panel of Disciples talk about identity, theology, and how they live out the call to faithful care for the community. 
Virtual CROP WALK
Save the Date: Sunday, October 25
More info to come.
MMM…Meatless Monday Meetup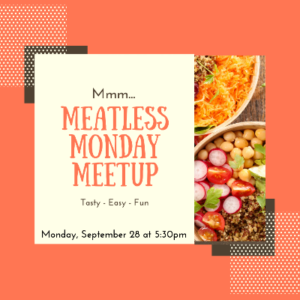 Choosing to eat less meat is one practical way we can care for creation. So, what are some good meatless recipes?  Join us Monday, September 28 at 5:30pm for our Zoom Mmm…That is, our Meatless Monday Meetup!
Laureen Pew will guide us through making Black Bean Fajitas. Then we will enjoy our dinner together.
Click the link above to view the entire recipe.
Below are the ingredients you will need for Monday:
6-8 Tortillas (small either corn or flour)
1 can of black beans (also delicious with chickpeas) – drained and rinsed
2-3 bell peppers (green, yellow or red) [I like one of each] – take out seeds and sliced
1/2  red onion – sliced
Either ¼ head iceberg lettuce or ¼ head of cabbage
Salt to taste
Pepper to taste
1 tsp – Cumin
1 tsp – Chile powder
1 tsp – Garlic Powder
1 tbsp – cooking oil (olive, avocado or vegetable)
If desired, lime or lemon
Choosing to eat less meat is one practical way we can care for creation. Watch this video to learn more. So, what are some good meatless recipes? Share your favorite by emailing Laureen. She will put together a fun vegetarian recipe booklet. 

The Zoom link is in the weekly newsletter; contact the church office if you need it.
Many Voices, One Region
Tuesdays in October, 7:00pm – 8:00pm
In lieu of a Regional Assembly, this year all Arizona Disciples are invited to meet each Tuesday in October for a series of Zoom conversations. Each week we'll have short presentations from AZ clergy, a chance for small group discussion on the presentations, and then a large group conversation/panel discussion. These conversations will be the "workshop/education" aspect of Regional Assembly as well as time for fellowship before and after.
Visit our Regional Assembly website (ra.azdisciples.org) as we approach October for updates and information. We will also have videos from regional ministries and our Christian Church (Disciples of Christ) partners.
Tri-Regional Men's Retreat
Saturday, October 24 at 10:00am via Zoom
The 2020 Disciples Men Retreat is yet another new thing happening in 2020. But this one is a good thing! It is the first time the Retreat has been a Tri-Regional event, including the Northern California-Nevada Region, the Pacific Southwest Region and the Arizona Region. Register Here.
The Retreat is a time for church men to gather for study and worship and fun. It focuses on doing what we can to heal divisions that abound in our culture today. We intend to revitalize men's ministries in our Regions and empower men for ministries that build connections and care in an increasingly divided world.
An old saying claims that "showing up is 85% of life." Showing up has never been easier. So show up!
UA Campus Pantry!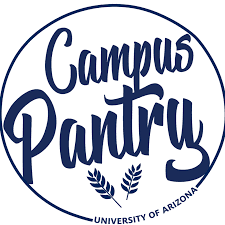 Did you know the Campus Pantry has moved to a larger space? This helps in distributing food and supplies, but it also means the pantry now needs to pay rent for that space. Your monetary donations help toward this cost as well as the purchase of food and basic needs available for students and staff. Donate here. Be sure that "Campus Pantry" is the designated fund. 
Currently, the pantry is well stocked with non-perishable items and can best use monetary donation. However, food donations can be received in the Sonora Room in the Student Union on Tuesdays 2-4pm and Wednesdays and Fridays 11am-1pm. Donations can also be taken to the ASUA office on the 3rd floor any day from 10am-2pm. We are currently not receiving donations at First Christian.  Click here to view the acceptable items!
Picnic Party Every Wednesday
Wednesdays at 11:45 am
Due to Krysia's school schedule, the picnic party will begin 15 minutes earlier starting Wednesday, September 9. The picnic party offers a midweek refresher with both lively conversation and compassionate care as we continue living in this unprecedented time. Everyone is welcome! The picnic party is hosted by Krysia González.
Get the Zoom link from the most recent newsletter or contact the church office.
Thursday Prayer and Faith Conversations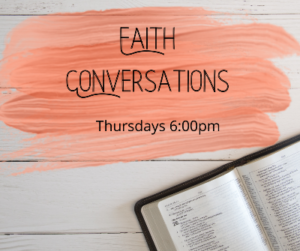 How do the scriptures relate to our experiences and events in the world today? This is the focus of the Thursday gathering for prayer and faith conversations. Each week a facilitator creatively leads us in reflective conversation based on a scripture passage,  prayer, and worship through music. Everyone is welcome.
Every Thursday at 6:00 pm.
Contact the church office for the Zoom link.
Zoom Choir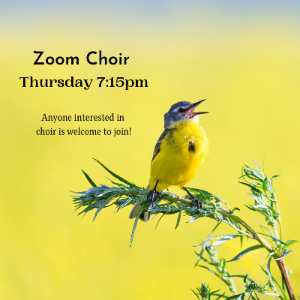 Love to sing? Interested in choir?
The FCC Choir has begun meeting via Zoom on Thursday evenings at 7:15pm.
Contact the church office if you need the Zoom link (you can find it in the newsletter).
New: Friday Coffee Chat
End the week with great company! Brew your favorite coffee (or tea), grab a bit of breakfast, and enjoy a time to connect with others.
Every Friday at 8:00am.
Get the Zoom link from the most recent newsletter or contact the church office.
Supporting FCC
Supporting FCC
Thank you for continuing to give faithfully to First Christian Church! Your gifts enable us to keep following our call to Seek God, Love Like Jesus, and Serve the World. Because that call leads us to practice justice, our church board is committed to paying all our staff during this time. Mailing a check, setting up bill pay through your bank, or giving online are available options to continue your financial commitment.