Weekly Events
Sundays at 9:00am: Adult Church School (in-person and on Zoom)
Sundays at 10:30am: Worship (in-person and on Zoom)
Sundays at 11:35 (following worship): Youth Church School (in-person and on Zoom)
Mondays (1st 3rd & 5th) at 6:00pm  Mind Wholeness Ministry Spiritual Support Group (on Zoom)
Wise Wednesdays: (2nd & 4th)
2nd Wednesday of the month – 6 pm
4th Wednesday of the month – 11:30 am
Thursdays at 6:00pm: Sacred Space (in-person and on Zoom)
Fridays at 9am: Coffee Chat (on Zoom)
Blessing of the Animals
Please make plans now to bring your pet!
Regional Assembly
Regional Assembly is right around the corner and we are excited to gather again in person as the Christian Church in Arizona! Your regional staff has worked hard to make registration easy for individuals and churches. If you have any questions or concerns, please contact Matt (mclark@azdisciples.org or 602-468-3815).
Registration link: https://ra.azdisciples.org/register
For more Information CLICK HERE
Mind Wholeness Ministry Spiritual Support Group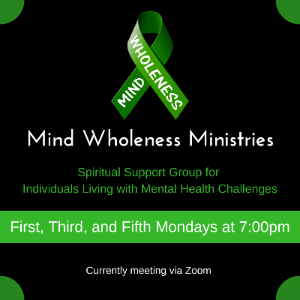 TIME CHANGE!
Monthly on the first, third, and fifth Mondays at 7:00pm 
Mind Wholeness Ministry of First Christian Church offers a spiritual support group for people facing mental health challenges. Anyone desiring spiritual and/or emotional support is invited to this group.  The group meets on the first, third, and fifth Monday of each month at 7 pm.
Please contact the church office for the Zoom link if needed.
Wise Wednesdays
Wise Wednesdays is way for us to explore together the 'rubber meets the road' practice of our faith. We will use this time to dive deeper into the call of living faithfully in these challenging times, exploring different relevant topics through the lens of faith and scripture. The meetings will be in person and on ZOOM. To best accommodate folks, we are test driving two different times to meet (note – the same program will be offered both times) :
2nd Wednesday of the month – 6 pm
4th Wednesday of the month – 11:30 am
Bring a bag meal or snack and join us in the parlor or on Zoom!
You can obtain the Zoom link in the weekly newsletter or by contacting the church office.
Sacred Space
Sacred Space offers a moment of pause to be in the presence of God. Each week, a variety of engaging, life-giving spiritual practices—readings, music, movement, silence, and other creative approaches—will guide our prayer. Sacred Space endeavors to be an open and safe place to meditate, commune, be renewed, and develop and strengthen the spiritual practice of prayer.
Sacred Space is a hybrid gathering. Join on Zoom or in person in the Chapel.
We will gather Thursdays at 5:50pm, and our Sacred Space time will begin at 6:00pm.
The Zoom link is in the newsletter; if you're not subscribed, please request the link from the church office.
Friday Coffee Chat
End the week with great company!
Brew your favorite coffee or tea, grab a bit of breakfast, and enjoy a time to connect with others.
Fridays at 9am.
The Zoom link is in the weekly newsletter. Need it? Contact our church office.
News & Events & Serving the World
See the Latest Episode of "Imagine with Me"
Conversations with Rev. Terri Hord Owens, General Minister & President of the Christian Church (Disciples of Christ) 
General Minister and President Rev. Terri Hord Owens creates a weekly video, from reflection on faith to interviews with leaders across the church, view the whole playlist.
Donations to the U of A Food and Clothing Bank
OPEN!!!
Campus Pantry and Campus Closet are open for the semester. Donations can still be dropped off at the Student Union Information Desk (1st floor, next to the traffic circle, directly across from the Bookstores).
Pantry and Closet needs:
-Shelf-stable milk
-Canned vegetables
-Box cereal
-Rice
-Beans
-Clean, unused undershirts
-Clean, unused socks
-Individual/trial size toothpaste, shampoo, conditioner, toothbrushes
-School supplies (pencils/pens, notebook paper specifically)
52 Ways to Care for Creation
Each week we share a new way to care for creation from the Creation Justice Ministries.
39. Track Your Use of Paper and Disposable Products 
This week, watch how often you use paper plates, disposable utensils and straws. See which of those items you can replace with reusable Tupperware and flatware that you can take with you. You can keep this in your car, purse, or backpack to use at a moment's notice.

 
Supporting FCC
Thank you for continuing to give faithfully to First Christian Church! Your gifts enable us to keep following our call to Seek God, Love Like Jesus, and Serve the World. Because that call leads us to practice justice, our church board is committed to paying all our staff during this time. Mailing a check, setting up bill pay through your bank, or giving online are available options to continue your financial commitment.