Weekly Events
All activities at FCC are currently held via Zoom.
Sundays at 9:00am: Adult Church School
Sundays at 10:30am: Worship
Sundays at 11:35 (following worship): Youth Church School
Mondays (1st 3rd & 5th) at 7:00pm  Mind Wholeness Ministry Spiritual Support Group
Wednesdays at 11:45am: Picnic Party
Thursdays at 6:00pm:  Becoming the Beloved Community
Thursdays at 7:15pm: Zoom Choir
Fridays at 8am: Coffee Chat
This Week in Worship 
​Sunday, April 18, 2021
Adult Church School at 9:00am   |   Worship Service at 10:30am   |   Youth Sunday School at 11:35am
Reminders About Zoom Worship:
Connect 10 minutes early and make sure you are muted when the service begins. Having everyone connected early (even if you are not present on screen yet) helps us help you with any technical problems and begin our livestream and recording of the service without background noise.
Prayer Concerns: Email your prayer concerns to Pastor Ailsa this week or type them in the Zoom chat when you log in.
Communion: Get your bread and cup ready for communion prior to service.
Andy Nichols Tribute
Monday, April 19 at 11:00am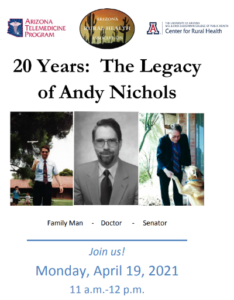 Andy died on April 19, 2001.  It's hard to believe that he has been gone for 20 years— His colleagues have planned a tribute for 11-noon on Monday, April 19, including some reflections on his work in public health, border health, as a state legislator, as a family man and a man of faith.  All are welcome to attend this virtual event: https://bit.ly/3m6eCNV
Becoming the Beloved Community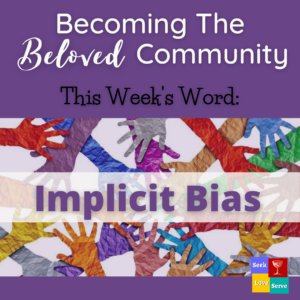 Implicit Bias:
Also known as unconscious or hidden bias, implicit biases are negative associations that people unknowingly hold. They are expressed automatically, without conscious awareness. Many studies have indicated that implicit biases affect individuals' attitudes and actions, thus creating real-world implications, even though individuals may not even be aware that those biases exist within themselves. Notably, implicit biases have been shown to trump individuals' stated commitments to equality and fairness, thereby producing behavior that diverges from the explicit attitudes that many people profess. (The Kirwan Institute for the Study of Race and Ethnicity, Implicit Bas Review)
Digging Deeper:
–   Read more in the Implicit Bias Review published by The Kirwan Institute for the Study of Race and Ethnicity. Topics in the review include: Background on implicit bias; Measuring implicit cognition; Implicit bias in criminal justice, health care, and education; and Debiasing.
–   Video: "Implicit Bias: Peanut Butter, Jelly and Racism"
–   "March Madness broadcasters reveal implicit bias" by Charles Hallman
–   "10% of Black Patients Report Implicit Bias in Medicine" by Sara Heath
Mind Wholeness Ministry Spiritual Support Group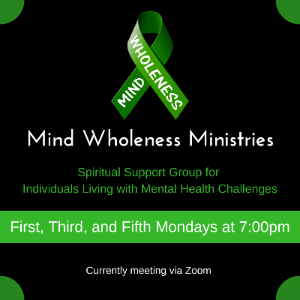 Mind Wholeness Ministry of First Christian Church offers a spiritual support group for people facing mental health challenges. Anyone desiring spiritual and/or emotional support is invited to this group. The Rev. Mary Alice Do facilitates the groups. The group meets on the 1st, 3rd, and 5th Monday of each month at 7:00pm.
Raffle for the HAGAR fund
Mary Alice Do has crocheted TWO beautiful afghans to be raffled off for the Disciples Women's Ministry HAGAR (Helping Abused Grow and Recover) fund.
To buy chances for the raffle please send checks to:
Jean Jackson
10659 N Kilimanjaro Ave
Oro Valley, AZ 85935
You will get one chance for every dollar you donate.
Jean and Rosemary will visit Jody Vanderkolk and have Jody pick the winner.
Your Help is Needed — Humanitarian Crisis at the Border
Casa Alitas Update – Volunteer or Donate
We are beginning to see the number of guests increasing.
Volunteers and donations are needed!
To volunteer and sign up for the next volunteer training, please contact alitasvolunteers@gmail.com.
MOST NEEDED:

Remote volunteer to contact families
Drivers
Overnight

Kitchen, providing food at hotel
Onsite Floater
Clothing
Transportation
Intake
Laundry
Donations can be brought directly to CAWC at 2225 E. Ajo Way, Tucson, 85713. It will be a big help to know when to expect them, so we can get volunteers on hand to receive them. You can email Frances Wheeler-Berta with the day and time: luciferlucyloo@gmail.com Please note that due to Covid we are not accepting used clothing.
This week's Wish List:
Adult Size Flip Flops
Women's stretch pants ALL Sizes
Boys & girls pants sizes 3T-5T
Women's underwear sizes 8-10
Our new, updated Wish List can be found HERE.
Please note that at this time due to COVID we are not accepting used clothing.
Save Asylum Update
Our next march on behalf of those migrants still waiting in Nogales, Sonora will be held on Friday, April 30 at 11:00 am. Supporters from the United States will gather at the Border Wall to hear testimonies and calls to action. Watch for more details that will be coming soon.
52 Ways to care for Creation
#15 Start a Garden​, Indoors and Out!
​Start a garden in your own backyard or share the work with your community by creating a neighborhood garden. Do you have space in your church's yard, at a vacant lot, or in a nearby park? Gardening is good for creation and saves you money. If you do not have space outdoors, you can grow veggies or herbs in pots in your place of residence. ​​Indoor plants will produce oxygen to improve your indoor air quality.
Events and Resources
Imagine! God's Earth and People Restored
VIRTUAL ECUMENICAL ADVOCACY DAYS TAKING PLACE APRIL 18-21, 2021
Join the Ecumenical Advocacy Days (EAD) 2021 to advocate for Climate Justice! EAD 2021 is an opportunity to support this global movement centered on and led by the people and communities most vulnerable to climate impacts due to historic racial and colonial inequities. Together, we will passionately advocate and reimagine a world that lives out the values of justice, equity and the beloved community. Learn more and register here.
Ecumenical Advocacy Days is a movement of the ecumenical Christian community, and its recognized partners and allies, grounded in biblical witness and our shared traditions of justice, peace and the integrity of creation. Our goal, through worship, theological reflection and opportunities for learning and witness, is to strengthen our Christian voice and to mobilize for advocacy on a wide variety of U.S. domestic and international policy issues.
Walk-up COVID-19 vaccine registration available in Pima County
There is on-site registration at the Tucson Convention Center, 260 S. Church Ave., for all appointments at that walk-through location. The staff can also help register individuals for the other major vaccination sites in the County.
People who register on-site at the TCC and already have a MyChart profile through Tucson Medical Center may be able to receive a same-day appointment at either site, depending on vaccine availability. You also may be able to get a same-day appointment even if you don't have a MyChart profile.
The TCC vaccination center is open from 8 a.m. to 5 p.m., Monday through Friday. There is free parking at the garage off Church Avenue (east side of the TCC).
The indoor site at El Pueblo Center opened April 5 and is designed for same-day, on-site registration and vaccination. The site, 101 W. Irvington Road, is open Monday, Wednesday and Friday from 9:30 a.m. to 1:30 p.m.
For all of the registration options in Pima County, visit our COVID-19 vaccine information page at www.pima.gov/covid19vaccine.
Colors of Hope Prophetic Podcast from
Disciples LGBTQ+ Alliance
Reflections from queer faith leaders that explore a lectionary text alongside colors and themes from Gilbert Bakers original Pride flag.  Subscribe to Colors of Hope (COH) wherever you listen to your podcasts. Want each week's podcast delivered to your inbox? Sign up here for the 9-week series.
Find Colors of Hope on Spotify.
Colors of Hope Co-Creator, Alysha Laperche writes:
"Hope is an act of resistance. If it were not for the hope of our ancestors in the LGBTQIA+ community, then we would not be where we are today. It is now our turn to hope in color, imagining a brighter and more just future where the expansive love of God is embodied in every aspect of life; including, and perhaps especially, in the realm of faith. These podcasts are a source of empowerment for LGBTQIA+ Christians – many of us have been told that we are not fit to teach, preach, or speak in a faith context because of who we are and how we love. The series also offers a source of belonging to LGBTQ+ people of faith within the Disciples and beyond; to hear from other LGBTQ+ people who are Christians about their experiences with scripture that are liberating, meaningful, and hopeful. For our allies, family members, and those who are supportive but wanting to learn more; this is a way to gain insight about LGBTQ+ Christians outside of and beyond one's personal context. Just as a rainbow stretches across an expanse of the sky, Colors of Hope stretches an expanse of identities, locations, ages, genders, and more."
Picnic Party Every Wednesday
Wednesdays at 11:45 am
The picnic party offers a midweek refresher with both lively conversation and compassionate care as we continue living in this unprecedented time. Everyone is welcome! The picnic party is hosted by Krysia González.
Get the Zoom link from the most recent newsletter or contact the church office.
The Beloved Community Conversations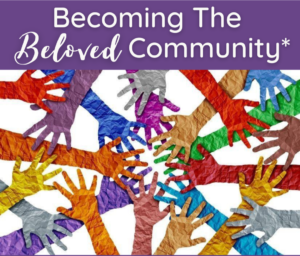 Thursdays at 6:00pm
Becoming the beloved community is a journey for all God's people. As a congregation, we will begin our intentional focus on the journey on Thursday, February 4 at 6pm and continue each Thursday. Our conversation will be guided by the videos, Uncomfortable Conversations With A Black Man, created by Emmanuel Achu. The brief video each week will present themes for conversation among participants. Everyone in the congregation is invited to attend the one-hour weekly Zoom gathering, and we hope you will invite your friends or family to join us as well.
Contact the church office for the Zoom link.
Zoom Choir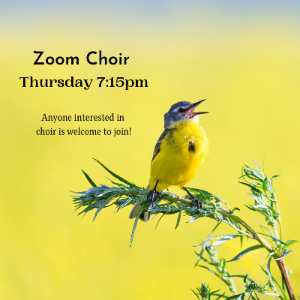 Love to sing? Interested in choir?
The FCC Choir has begun meeting via Zoom on Thursday evenings at 7:15pm.
Contact the church office if you need the Zoom link (you can find it in the newsletter).
Friday Coffee Chat (NEW TIME!)
End the week with great company! Brew your favorite coffee (or tea), grab a bit of breakfast, and enjoy a time to connect with others.
Every Friday at 9:00am.
Get the Zoom link from the most recent newsletter or contact the church office.
Supporting FCC
Thank you for continuing to give faithfully to First Christian Church! Your gifts enable us to keep following our call to Seek God, Love Like Jesus, and Serve the World. Because that call leads us to practice justice, our church board is committed to paying all our staff during this time. Mailing a check, setting up bill pay through your bank, or giving online are available options to continue your financial commitment.