Sarah Lue Bostick was the first African American woman ordained to the Christian ministry in 1892. This beloved and respected Disciples of Christ preacher, educator, and leader was born near Glasgow, KY in 1868.
She was a trailblazer was known for her compassionate spirit and ability to motivate all people to work together. She attended college in Arkansas in 1888 where she met and married Minister Mancil Bostick. Both were ordained to ministry by the Christian Church. They preached together in black, white, and mixed congregations. Despite bigotry, Sarah's dedication to Christ, perseverance, and loving spirit allowed to build bridges.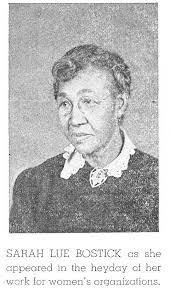 These bridges allowed her to found schools to serve the educational needs of African American students. Her interests were The Southern Christian Institute in Mississippi, Jacob Kenoly's mission school in Liberia, and Jarvis College in Texas, which she helped start. Sarah founded the first African American Christian Women's Board of Missions (the Negro Christian Mission Board – NCMB) and was responsible for organizing African Americans across the country for missions.
Bostick labored as a field worker for the Christian Woman's Board of Missions and the National Christian Missionary Society among African American congregations in Arkansas, Missouri, Tennessee, Kansas, Texas, and Oklahoma. She carried on her successful work for over 40 years, until her retirement in 1938.
Sara Lue was the President of the Christian Woman's Board of Mission Auxiliary at Pea Ridge (AR) Christian Church.  As such she acquired (and saved) a truckload (literally, a tractor-trailer load) of programs, letters, documents, periodicals, etc. documenting African American Christian Churches.
This woman of God committed her life to the service of others. After she died in 1948, her will designated money painstakingly saved to help the people she loved, with $100 each going to support Jarvis College and Southern Christian Institute and $50 to her home church.
[Sources: Disciples History.org, WordPress.com, Disciples Home Missions]